Every Taste Is Catered For Aboard Ocean Dream
CLICK PHOTOS TO VIEW LARGER VERSION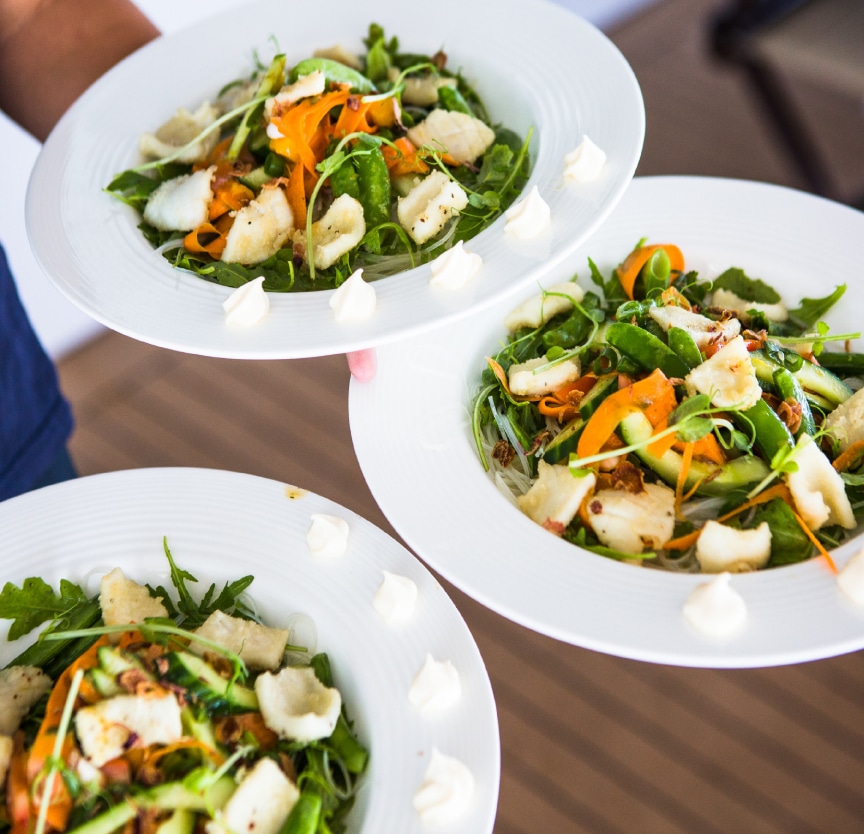 Freshly Prepared, Gourmet Delights, Every Day.
Cuisine is an important part of cruising the Kimberley, with long days spent exploring, fishing, swimming and having lots of fun. Good nutrition and a balanced diet is key for keeping up energy and sustenance levels in a remote wilderness location. Fresh produce is sourced locally in Broome and Kununurra, and is stored in a large cool room and deep freezers for long periods at sea. The onboard chef will prepare a healthy and vibrant menu that is full of fresh fruit, vegetables, locally sourced meat, freshly caught fish and a range of daily baked breads.
Guests consistently report that the cuisine is one of the highlights of their cruise. All meals are prepared fresh for each guest and is served plated at the dining table. The only buffet served is the early morning continental breakfast that is made available for guests to help themselves before early morning activities.
On a normal day aboard Ocean Dream, guests are served breakfast, morning tea, lunch, afternoon tea, canapé's, dinner and dessert. Best of all, the chef will prepare all freshly caught fish, mud crabs and oysters for the ultimate in ocean to table dining experience. You can't get fresher than that!
A continental breakfast is available from 6:30am every morning for the early risers and those heading out on fishing expeditions. A cooked breakfast is available mid morning around 8:30am for those wanting something more substantial. May include bacon, eggs, grilled halloumi, baked tomato, omelette, chorizo, mushrooms and avocado.
Depending on morning activities, the morning tea may be on board the vessel or taken out on the daily activity. The morning tea is baked fresh and will include something savoury or sweet. Tea and coffee is freely available on board the vessel.
Lunch is served back on the vessel and consists of a healthy fresh option such as freshly caught fish from the mornings fishing expedition and salad. There are always other protein options to fish depending on preferences and dietary requirements. A good time to rest and rehydrate before the afternoon's activities.
Fresh fruit platter with baked savoury or cake.
Canapés are served on the bow at sunset or on the beach during bonfire night. It is a beautiful time of day to share stories and laughter while enjoying freshly shucked Kimberley oysters, chilli mud crab or a grazing plate with a cold beverage.
Served on the aft deck, dinner is a culminating affair of the day's activities and festivities. A time for guests to relax and enjoy a sumptuous and delicious meal. Birthdays and anniversaries are common with exciting meals prepared by the onboard chef. Dessert is prepared fresh every day and many cruises have specialty cakes for celebratory occasions. Please notify the office prior to the cruise if there is a special celebration.
Ocean Dream operates a BYO alcohol policy. At 60 days prior to cruise departure, guests are sent a Beverage Order Form for alcoholic beverages that are ordered directly with a local bottle shop in Broome. Ocean Dream Charters will liaise with the bottle shop at no extra charge to the guest, and ensure that all orders are delivered, labelled and stocked in fridges waiting for guest arrival. This practice works really well for our guests because it helps to prevent expensive onboard accounts that are in addition to cruise costs.