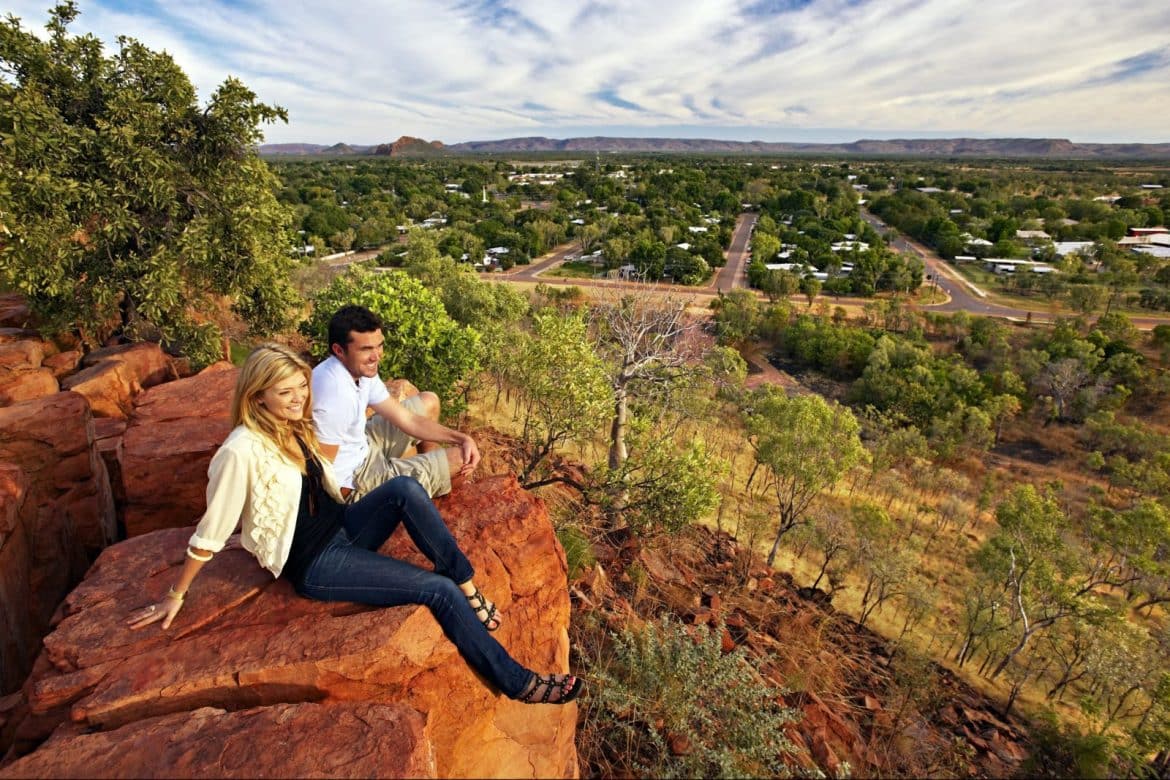 Located not too far from the Northern Territory border, Kununurra is a welcome oasis between Broome and Darwin and is a popular base for people when exploring the Kimberley region. This lively town is surrounded by lush farmland and abundant water and, when you visit, there's plenty to see and do. Today, we'll be having a closer look at what to expect when you pay a visit to Kununurra!
Getting to know Kununurra
Kununurra was established in 1961 and the name is based on the Miriwoong word 'Goonoonoorrang', which means large river. It was set up as a service centre for the Ord River Irrigation scheme and although population is around 7,500, this can almost double during the tourist season.
Kununurra's landscape is truly picturesque, with the red rocks which make up towering gorges and rocky cliffs contrasting with lush plant life. If you're lucky enough to visit this part of the world, you'll discover that Kununurra has no shortage of water with stunning waterfalls, inviting swimming holes, and freshwater lakes. There are no shortage of activities when you visit Kununurra, with hiking, canoeing, water skiing, fishing and swimming all on offer. You'll also experience some of the best sunsets around so make sure you sit back and relax in the evenings to take it all in!
Top things to see and do
With so many things to do when you visit Kununurra, we can't include them all so we've chosen some of our highlights for your next visit!
Ord River Diversion Dam – Only six kilometres west of the town, you'll find the impressive Ord River Diversion Dam. 335 metres wide, it controls irrigation to crops in the region and above the dam is Lake Kununurra which is perfect for swimming, boating and water skiing.
Mirima National Park – Mirima National Park, or Hidden Valley, is only five minutes away from the main town and is a must-see destination which is home to some incredible rock formations. If you're keen on a bit of bushwalking and some second to none views of the area, this is the perfect spot.
Lake Argyle – Stunning Lake Argyle is 75kms south of Kununurra and the best known landmark of the region. Western Australia's largest man-made lake, it forms part of the Ord River Irrigation Scheme and, amazingly, a thriving ecosystem has developed. When you visit, you can relax by the infinity pool or get out on the lake for some boating or wakeboarding!
Kelly's Knob – For an awesome view of the whole Kununurra area, head out to Kelly's Knob lookout which is only a short distance from town. The ascent can be challenging in places so remember to wear decent shoes! Try to get to the top in time to watch the sunset for an unforgettable sight.
If you're looking to experience tours in the Kimberley, Ocean Dream Charters offer true luxury aboard our 80-foot twin hull catamaran. Whether you want to embark on one of our scheduled cruises or prefer the flexibility of a private charter, our experienced crew will show you everything the stunning Kimberley region has to offer. Join us for the trip of a lifetime!
For Kimberley tours Australia, contact Ocean Dream Charters today on 1300 944 727.